365 Days of Obiex; How Far We've Come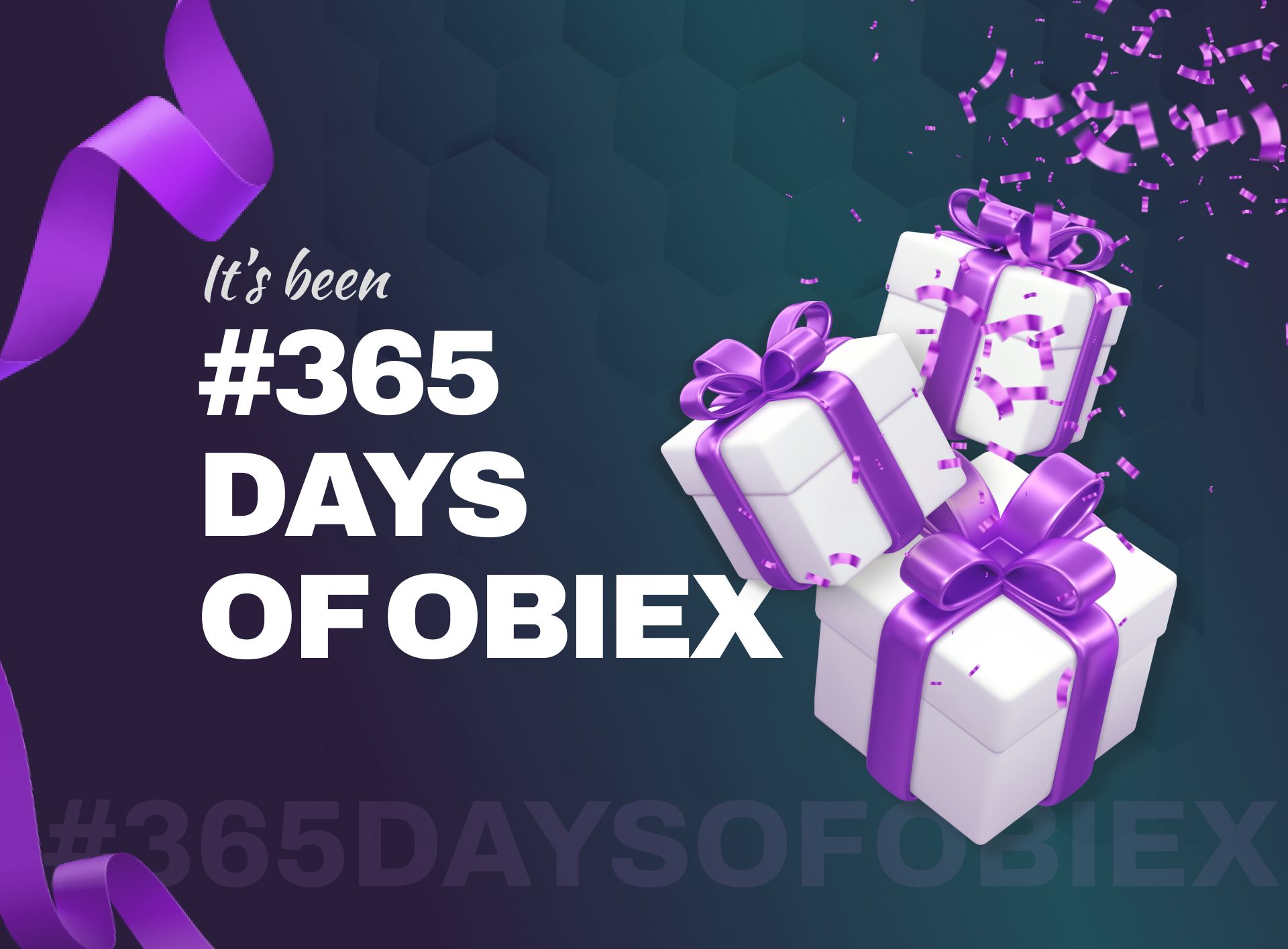 Obiex's trade volume hit a significant milestone on the 20th of October, 2021. By the end of December, it had doubled. Six months later, the crypto-fintech company is celebrating its first anniversary. This alone should tell you that Obiex means business and are fully dedicated to its  mission "to bring deep liquidity, excellent service, better price discovery to the market and provide users with the smoothest trading experience in the market."
How did Obiex start?
Ikechukwu Okeke and his co-founder, Chidozie Ogbo, first built a single-page off-ramp platform called Otc.paylot.co to help merchants get off-ramp crypto. Even though it was never advertised, it was so successful that it had to be turned into an independent platform called Obiex Africa.
Eventually, the platform was transformed into a fully automated and instant off-ramp service for hundreds of traders in Nigeria. Traders used the service to get instant cash at competitive rates until the 5th of February 2021, when the Central Bank of Nigeria banned regulated financial actors from supporting crypto companies. The new directive challenged the Obiex Africa team to return to the drawing board and restrategize.
This restructuring gave birth to the Obiex App (available on iOS and Android and Web). With it came a change of name from Obiex Africa to Obiex Finance.
The Rise of the Obiexers
The name change to Obiex Finance brought more customers and the need to expand to meet their needs. African traders form the core of Obiex, as they understand the problems and inefficiencies associated with trading on the continent like:
numerous technical entry barriers
zero hedging services
delayed network confirmations,
constant restrictions of funds without cause
unfriendly support systems
Traders were losing money daily using exchange platforms that had these issues. The Obiex Finance team saw an opportunity in this crisis to deliver an easy-to-use wallet and trading platform while de-risking its users. Obiex currently has a workforce of over 20 talented individuals teamed up together from different parts of Nigeria and outside the country. Together, they work tirelessly to ensure they deliver efficient services and more to every single Obiex customer.
Obiex has provided cryptocurrency exchange services to over 20k users (Obiexers😁) in and outside Africa for 365 days. Considering the challenging economic landscape the world is experiencing today, this is no small feat. Still, the company continues to grow and improve in its mission to provide financial freedom through cryptocurrency.
Obiex Achievements
Success is the result of preparation, hard work, and opportunity. These three things are in no short supply within the Obiex team, and it has led the team to hit multiple milestones and score numerous victories in the past one year.
High on the list is the Obiex x Chess in Slums collaboration. Obiex CEO, Ikechukwu Okeke challenged Chessinslums convener Tunde Onakoya to a chess match. Ikechukwu promised to donate $2000 to the Chessinslums humanitarian project if Tunde won. The match took place on the 22nd of April 2022, and Tunde emerged victorious.
As promised, Obiex donated the amount mentioned above, and the Obiex CEO noted that the game was just an avenue to have fun while helping a cause he believes in.
According to the CEO, "Youth and everything youthful is the future of Africa, and we must do everything in our power to empower the youth." This sentiment is shared by every member of the Obiex team and is an essential driving force behind their actions.
Other wins Obiex has achieved in the past 365 days include the following:
Launch of the Obiex version 3 mobile app.
Launch of the Obiex Virtual Card. With an Obiex virtual debit card, you can convert your crypto to fiat currency to make online transactions.
Addition of leveraged token trading for crypto traders with a high-risk appetite.
Listing more coins including The Sandbox ($SAND), XRP ($XRP), Terra ($LUNA), Avalanche ($AVAX) and Decentraland ($MANA).
Obiex has also carved a name for itself within the Crypto space by hosting Twitter Spaces, IG lives and Telegram chats with crypto heavyweights like Chris Ani of DabaSchool, Munachi Ogueke of Yellow Card, Tunde Onakoya of Chessinslums, Tony Emeka of CryptoTvplus and Deborah Ojangbede of AFEN Blockchain Group.
Obiex and her vision for the future
There's always more to do in the crypto ecosystem, and Obiex is not about to rest on her laurels. More features are coming to the Obiex app, including gift cards, interest on crypto deposits, utility bill payment, and improved referral system, more coin listings, limit orders, and crypto savings plans. The crypto fintech company also intends to launch an NFT marketplace for Africans and collaborate with humanitarian organizations to offer more inclusive financial services.
For Obiex, the sum of the parts is equal to the whole. Every single employee is vital for the growth of the company. Every single customer is essential for the fulfilment of the Obiex vision.
As the crypto and the financial industry evolves, Obiex will be on the frontlines delivering stellar services and shaping history.