Blockchain
How I Almost Got Kicked Out of a Plane - Obiex CEO (Obiex Telegram Chat Recap)
"I wanted to return to Abuja and my friends were using another flight the next day. On getting to the airport, I found out that there is a limited weight of load you can bring on the plane without paying an extra fee."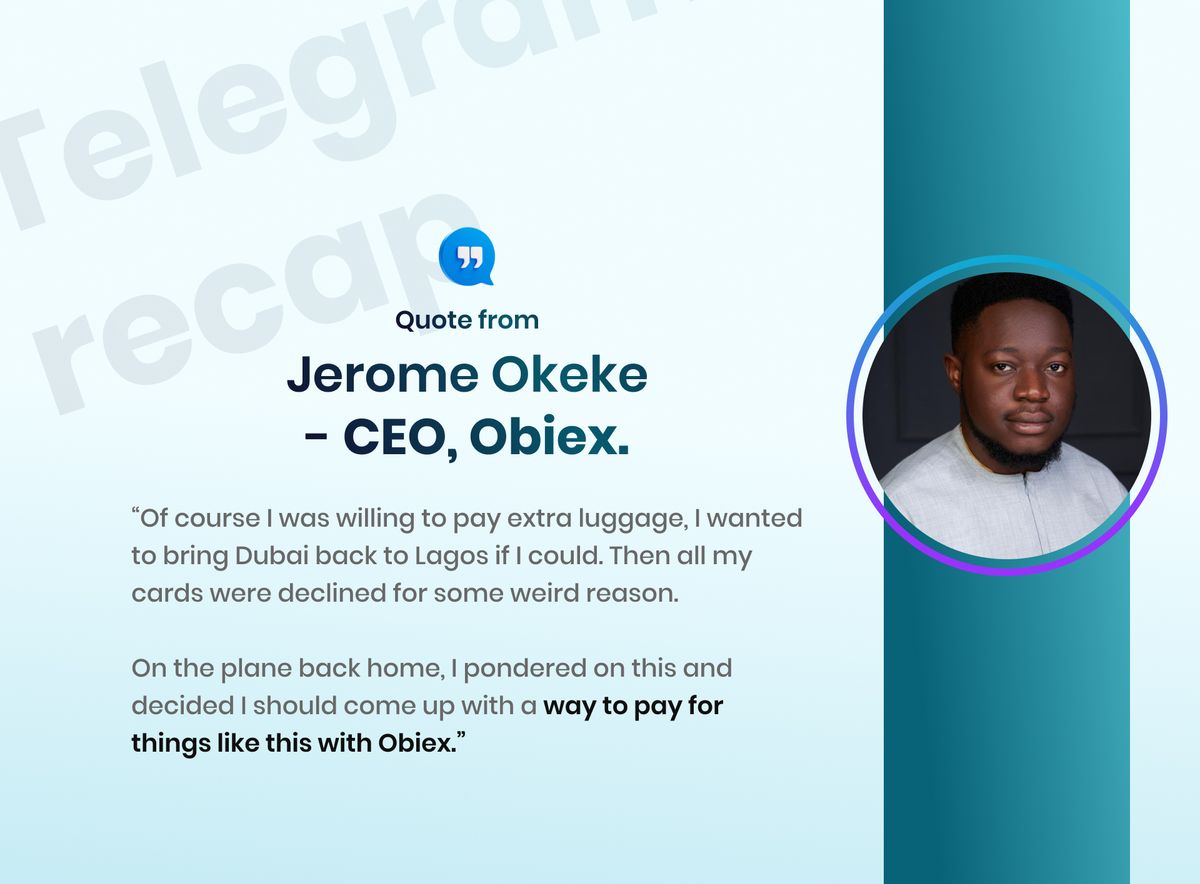 At approximately 8pm West African Time on the 12th of February, Obiex hosted a Telegram chat on its Telegram community titled, "Let's Talk Crypto.".

Many customers in the community had the opportunity to hear and even ask the CEO of Obiex Finance, Ikechukwu Okeke, some personal questions. In what was a friendly chat, the CEO shared some of his personal experiences that inspired many of the unique features we now enjoy while using Obiex.

Amongst the stories he shared, the one detailing his Dubai experience some years ago was probably the most significant.

"It was my first time in Dubai, in fact it was my first time out of Africa and I was so excited. Luckily for me the bull run already started so I had money to spend and my Goodness did I spend (laughs). I bought and bought, I bought anything I laid eyes on in hopes that I will bring it all back to Nigeria."

The next part of this story was one that; according to Ikechukwu Okeke, inspired a peculiar feature that is the focal point of the soon to be released Version 3.0 of the Obiex app.

You heard it right, Obiex is working on a new version of the app as promised by the CEO himself!

"I wanted to return to Abuja and my friends were using another flight the next day. On getting to the airport, I found out that there is a limited weight of load you can bring on the plane without paying an extra fee."

"Of course I was willing to pay, I wanted to bring Dubai back to Abuja if I could (laughs). Then my cards, I mean all my bank cards declined for some weird reason. At this point the counter had finished checking in passengers and I had just a few more minutes before the counter closes and I will be kicked out of the flight. I knew I had a big problem. None of my friends tagged along and I knew before any of them could get there, the plane would have been long gone"

"Well, luckily for me a passenger on another flight saw I was in a bit of a fix and decided to swipe his card for me. I was so grateful. On the plane back home, I pondered on this and decided I should come up with a way to make international payments possible and easy with Obiex."

Can you imagine having so much crypto assets and getting kicked out of a plane because you can't pay for extra luggage? I guess money can't buy everything, you still need access.

This experience gave birth to the Virtual and physical cards that are set to be included in Version 3. These cards will pay for anything and everything to encourage limitless, borderless and hassle free payments.

The virtual cards would not be the only new features to be added on Obiex. According to Ikechukwu, there will also be:

leveraged tokens to help customers with high risk appetites make more profit,
interest on crypto deposits,
saving plans,
access to credits,
gift cards,
utilities,
more listings on tradable assets,
tighter margins,
limit orders.


So when will Version 3 be released? Ikechukwu said it would be launched in March 2022.

The Obiex CEO in his closing statements that evening used the opportunity to share some of the major goals of Obiex Finance.

"Our goal is to make crypto easy for millions of Africans. Crypto is a foundation for the next phase of innovation and we want to be sure Africa is on the frontline.".

*****

Obiex's CEO clearly has a dream that is bigger than the business itself. Obiex has virtually been positioned as a tool to speed up the adoption of crypto in Africa and around the world. Surely there is a lot to look forward to and we are here for it.