Obiex Virtual Cards is a Dream Come True- Obiex CEO
Earlier this year, Obiex CEO Ikechukwu Okeke shared news about the upcoming release of a new version of the Obiex app, version 3.0. Fast forward to April, and the much-anticipated version 3, which comes with unique features, is live on Google Playstore and Apple App Store. However, one peculiar feature is a dream come true for the Obiex CEO, and here's why;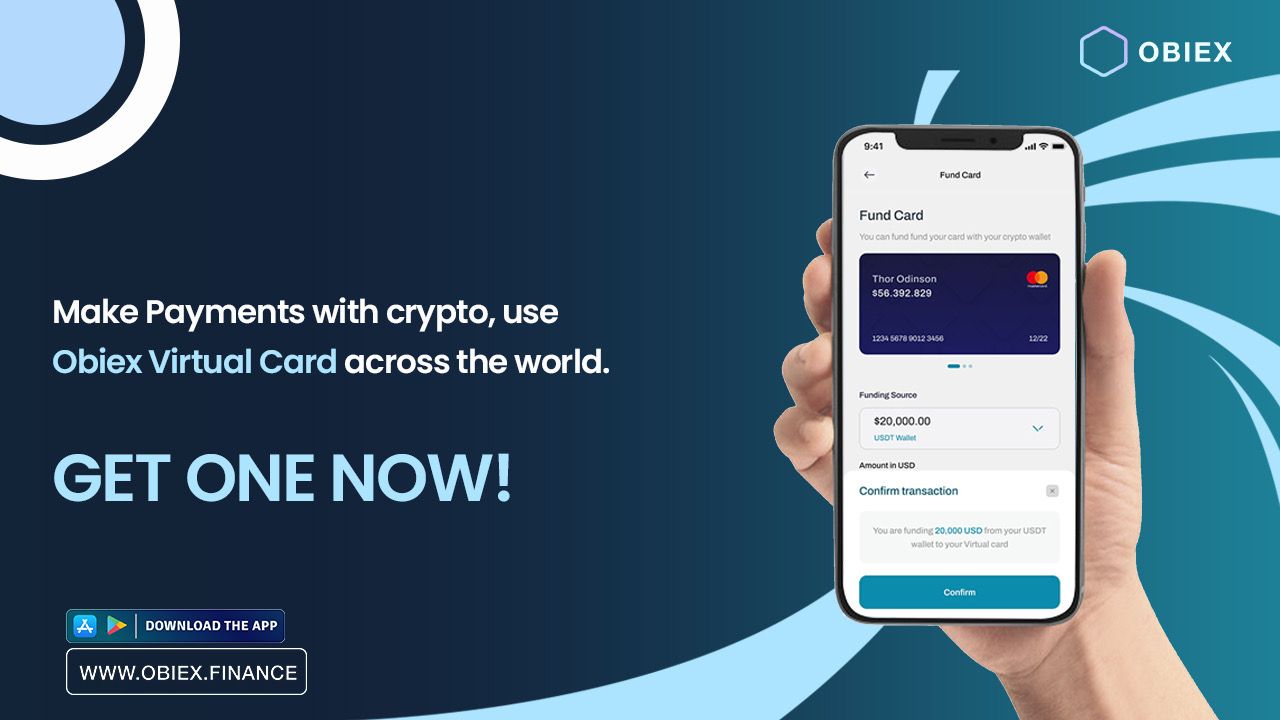 Ikechukwu Okeke shared his experience at an airport in Dubai during a regular telegram voice chat on the Obiex community that prompted his drive to create a virtual and physical debit card that can be used to make payments anywhere in the world.

"I wanted to return to Abuja, and my friends were taking another flight the next day. Arriving at the airport, I found out that you can only bring a certain amount of weight onto the plane without paying an extra fee."

"I was ready to pay for Dubai to come back to Abuja if I could (laughs). Then my cards, all my local bank cards, declined for some weird reason. At this point, the counter had finished checking in passengers, and I had just a few more minutes before the counter closed, and I would be kicked out of the flight. I knew I had a big problem. None of my friends tagged along, and I knew that the plane would have been long gone before any of them could get there.

As luck would have it, a foreign passenger on another flight saw I was in trouble and decided to swipe his card for me. My thanks go out to him. While flying home, I pondered why most Africans are this financially excluded and decided I should develop a way to make international payments possible, easy, and convenient with Obiex."

This nearly unfortunate event that could have seen the Obiex CEO kicked out of a plane gave birth to a brilliant idea that over 20,000 Obiex users are enjoying today. Given the rather strict policies surrounding crypto and forex in Africa, Obiex virtual cards are a breath of fresh air as they allow me and you to conduct limitless transactions from anywhere in the world.

Powered by tech giants, Mastercard, the Obiex virtual cards are safe and reliable. So far, Obiex users have reported the virtual cards to be working on PayPal, Uber, Aliexpress, ASOS, Risevest, Amazon, University platforms, and almost every other platform.
A couple of days after the launch of v3, a user reported that he successfully paid for a business class Emirates ticket with the Obiex Virtual card. He was amazed because this was impossible before now with other local providers.

"Sometimes it's more than just business; it's service to people. Recognizing a true pain point and helping to solve the problem with your product or service is…. It's more satisfying than profits" - Ikechukwu Okeke.

Version 3 of the Obiex app also came with Leverage tokens and a brilliant user interface that looks new but feels familiar. The CEO has promised much more features to go with version 3.1. There is no rush as most people are still engrossed in the capability of their Virtual cards.

Join the team today to try the Obiex virtual cards across borders. Where do you think the Obiex cards might be limited? Create your Obiex virtual card and start testing it today.