Crypto Community
Top Most Influential Crypto Twitter Accounts 2023
Chris Ani (iamchrisani) is an entrepreneur, author, startup advisor, and Bitcoin and blockchain advocate. He is the founder and CEO of daba studios, An online educational platform that offers in-demand high-income digital skills.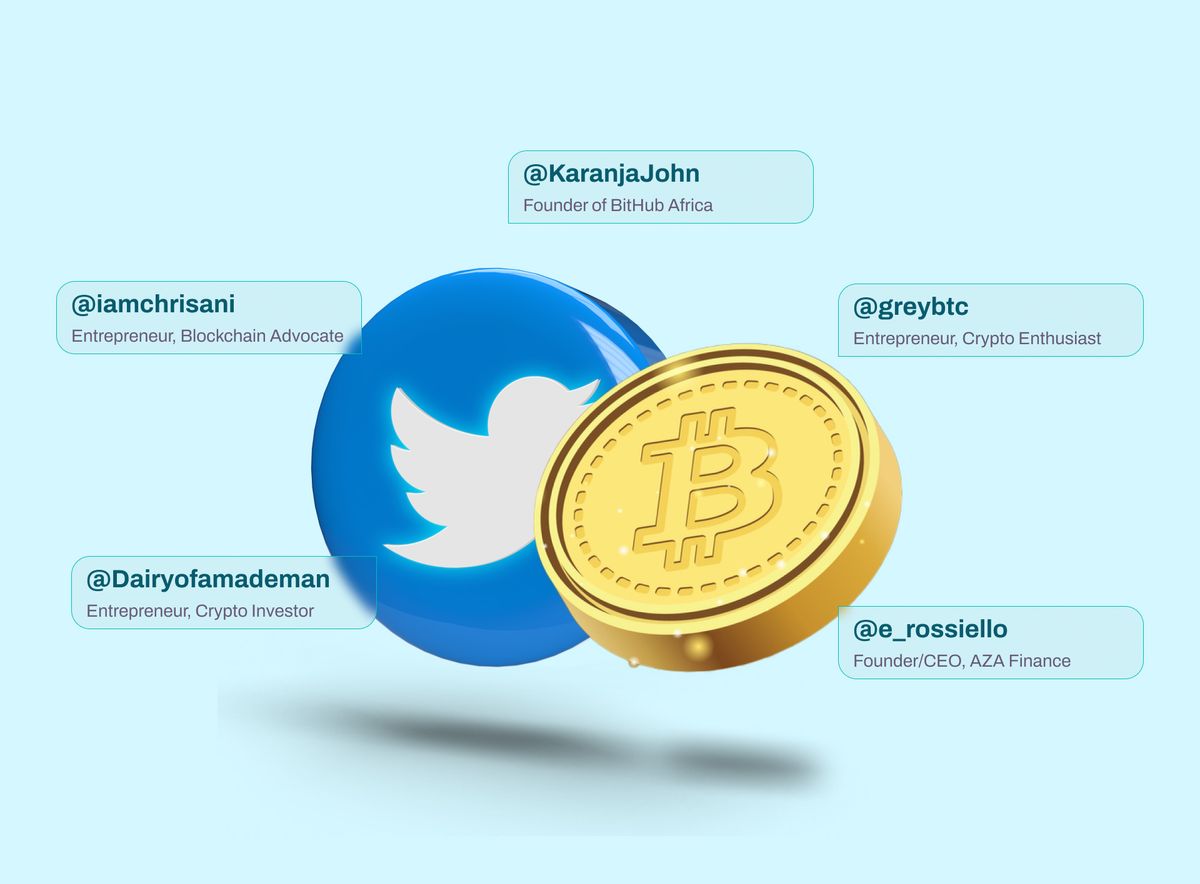 In a study conducted by Chainalysis' 2018 Global Crypto Adoption Index, Nigeria, Morocco, and Kenya are the three African countries that account for the world's second-largest share of Cryptocurrency.
Bitcoin might have been created elsewhere, but Africans have adopted and fallen in love with it. Twitter crypto influencers have exploded over the last three years and have sung praises of blockchain money in the continent.

Here are Some of the Most Popular Twitter Accounts in the African Crypto Community

Chris Ani
Chris Ani (iamchrisani) is an entrepreneur, author, startup advisor, and Bitcoin and blockchain advocate. He is the founder and CEO of daba studios, An online educational platform that offers in-demand high-income digital skills.
In the past five years, Chris Ani has been one of the region's loudest voices promoting blockchain technology. In 2017, Chris Ani pioneered Cryptohub. Club, the first platform in Nigeria for Bitcoin, blockchain, and Cryptocurrency education, receives monthly web visitors from over 40 nations.

Ian Belina
Ian Balina (@Dairyofamademan) is a renowned cryptocurrency investor, entrepreneur, and author. Originally from Uganda, Balina gained prominence for his data-driven investment approach called "Token Metrics," which helped him succeed significantly in the crypto market. Through his YouTube channel, "Diary of a Made Man," and social media platforms, Balina shares insights on crypto markets, investment strategies, and interviews with industry leaders. He is also the founder of Token Metrics, a platform providing data-driven insights and analytics for digital assets. Balina's expertise, educational content, and success have made him influential in the global cryptocurrency community.

John Karanja
John Karanja (@KaranjaJohn) is the Founder of BitHub Africa and a Director at Space Kenya Networks Limited, a company he co-founded in 2008 that provides a workspace for businesses and startups operating in Nairobi. BitHub Africa is a blockchain accelerator that fosters the adoption of blockchain technology across the continent. Karanja shares the latest news, insights, and updates on the African crypto space through his Twitter account, offering valuable perspectives for newcomers and experienced enthusiasts. In addition to supporting blockchain startups, BitHub Africa conducts research, develops projects, and engages with stakeholders to build a thriving blockchain ecosystem in Africa. Karanja's work and influence significantly shape the African crypto landscape and position Africa as a vital player in the global blockchain industry.

Join the Obiex Telegram Community Today!

Grey Jabesi
Grey Jabesi (@greybtc) is a passionate crypto enthusiast, entrepreneur, and influential voice in the blockchain community. As the host of the widely acclaimed "Grey Ave Podcast," Jabesi engages in insightful conversations with notable figures in the cryptocurrency and blockchain sectors, exploring various topics and trends. His podcast has become a go-to resource for many seeking knowledge and inspiration in the ever-evolving world of digital assets. Jabesi's dedication to spreading awareness about the transformative potential of blockchain technology and cryptocurrencies has earned him a substantial following on social media, where he actively shares updates, opinions, and analyses to help educate and inform his audience.
Download the Obiex app today & swap without waiting for blockchain confirmation!

Elizabeth Rossiello
Elizabeth Rossiello (@e_rossiello) is the CEO and founder of AZA Finance, formerly known as BitPesa, a digital currency exchange that caters to the African market. Rossiello's leadership and vision have propelled AZA Finance to become a leading platform for accessible and affordable currency exchange and remittance services across Africa. Her commitment to financial inclusion and technological innovation and her status as one of the most influential crypto investors has helped bridge the gap between traditional finance and the digital currency ecosystem on the continent. Rossiello actively engages with her followers on Twitter, sharing news, insights, and updates about the African crypto space, ultimately contributing to the growth and development of the region's blockchain industry.

In conclusion, the African crypto community has witnessed remarkable growth over the last few years, with numerous influential voices emerging on Twitter. The individuals mentioned in this article have significantly promoted blockchain technology and cryptocurrencies in the African market. They offer valuable insights, news, and educational content, helping to demystify the complex world of digital assets for their audience.  Their collective impact contributes to the increased adoption and integration of cryptocurrencies and blockchain technology across the continent.