The Obiex Block
The Obiex Block: I Could Ditch Coding And Switch To A New Tech Field And Still Be Fine
Adaobi Osakwe is a software developer. In this episode of The Obiex Block, she speaks to us about her passion for writing code, her excitement for the future of blockchain technology, and her views on cryptocurrency, among a whole lot of other interesting things.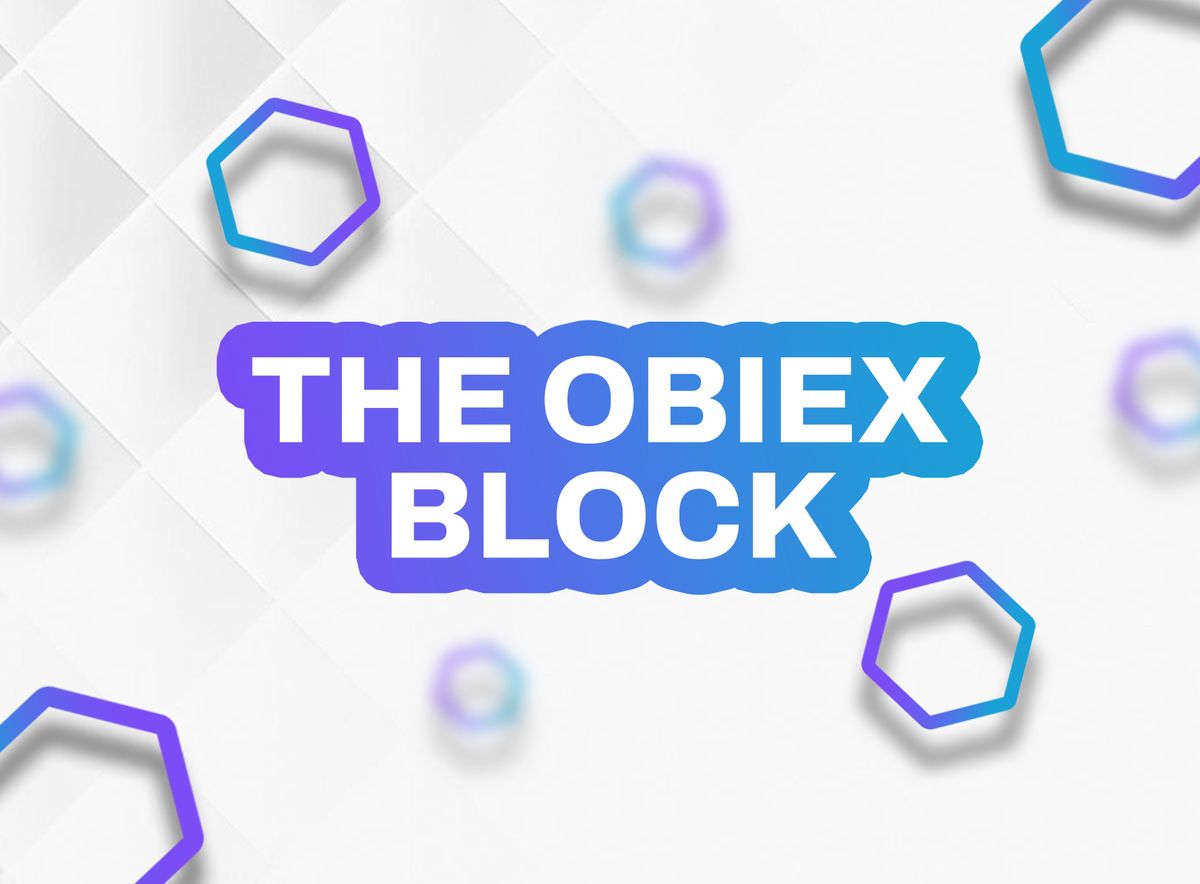 💡
The Obiex Block is a bi-monthly series where we interview people in Crypto, Blockchain, and Web 3.
---
Adaobi Osakwe is a software developer. In this episode of The Obiex Block, she speaks to us about her passion for writing code, her excitement for the future of blockchain technology, and her views on cryptocurrency, among a whole lot of other interesting things.
---
Let's get to know you! Please introduce yourself.
My name is Adaobi Osakwe.
Hi Adaobi, it's nice to meet you. What do you do for a living?
I'm a Software Developer for Wicrypt, a decentralised hotspot-sharing and token-mining company.
Wow! That sounds interesting. Why did you become a software developer, though? Was it your passion for writing code, or you just needed a means to secure the bag?
I think it's a 50 percent passion for the job. I got into software development because I really enjoy writing code. I didn't even realise then that it would be a path to securing the bag. Now, it's a mix of passion for the work and the practical aspect of earning a living. In the beginning, it was more about my love for coding, but in recent days, I wake up in the morning because of the paycheck.
Mmm, I hear you. Even with the passion for what I do, there are just some days that I don't want to drag myself out of bed.
Right! And that's where the paycheck comes in. A motivation for unmotivated days. So, it's kind of a 50-50 situation for me.
I totally get that. But there's another thing I would also like to know. Why did you decide to work for a crypto-affiliated company?
Well, I won't say that working for a crypto-affiliated company was a conscious decision because when Wicrypt started, we were not really a crypto company. We expanded into the crypto sector because we discovered that it could give us an edge in the digital world. And in business, you always look out for things that give you an edge because you want to stand out. So, that's how I ended up in the crypto-verse.
Now that you are an active player in a crypto company, what are your views on cryptocurrency?
Cryptocurrency has its perks, like cheaper money transfers and decentralised systems—there's a bunch of good stuff in it. But, you know, there are downsides too. It's not all rainbows and sunshine. I've seen people dive in without really thinking about the pros and cons. So, I'd say, be cautious with crypto stuff. It's still pretty fresh, and you don't want to jump in without looking.

That's really good advice.
While we are still on the crypto topic, could you also tell us what you understand by the term "blockchain"?
Sure! Blockchain is basically a system that lets people log their activities into a ledger. What's cool about it is that multiple people can check and approve these activities on a shared record. Since everyone has their own version of this record, it's very difficult to mess with the info or even lie about it. I spent a long time wrapping my head around blockchain, and once it clicked, this is how I explained it to myself.
It's a pretty complex concept to explain, right?
Pretty much.
Have you ever had to give a full lecture on crypto or blockchain just because you told someone where you worked?
Oh, absolutely! There was this time when someone found out where I work, and the next thing I knew, I was giving a talk at an online event. I can't even remember the exact topic, but it was all about the cool stuff you can do with blockchain. We dived into the various ways blockchain can be used – not just in cryptocurrency but everywhere. I've always been excited about the possibilities of blockchain technology. It's still relatively new, and there's so much we're yet to discover. I'm especially excited about how it's creeping into areas like voting systems and healthcare. It's like a whole new universe! I wish I could peek into the future and see what blockchain would become in 20 or 30 years from now.
I love how excited you are about the future of blockchain. Have you ever received any advice about your career? What are the best and worst ones?
I don't know who particularly told me this, but the best piece of advice I've received was about how a career path in tech means learning on the job every day, like a constant adaptation game. This advice really hit home for me, and it's cool because our company drew inspiration from it. We adapted to suitable trends when we had the opportunity to make our products better and expanded into the blockchain space.
Does that mean you've had no bad advice?
I do, but I actually have to think long and hard about that one.
Please take your time.
Here's the thing. I have evolved to have a "bullshit blocker", so, somehow, it always blocks out bad advice. I might hear you but would never listen. That way, I always forget them. That's why, even after thinking about it, I still can't remember any.
Cool! I think a lot of people should get that type of blocker too. Let's talk money. What is the biggest money move you have ever made in crypto?
If I tell ya, I'm gonna have to kill ya.
Whoa!
Mmhmm… While I believe in being transparent about how much money I make and all that, I feel like you are just testing the water with this question. So you better get your leg out while you are still testing.
Okay… In the spirit of preserving my life and leg, let me rephrase that question. How has your present lifestyle influenced your financial habits?
I always tell people that money is freedom. I'm an Igbo girl, so I like money – making it and spending it. I don't know if that is an Igbo trait, but I'm claiming it. However, I make an effort to be smart about finances. I stay financially literate, save, and make wise money choices because I enjoy having it. Ultimately, my lifestyle allows me to feel more financially liberated, enabling me to pursue various experiences and buy myself the things I want.
Mmm, cheers to the soft life.
Big time!
Let's end on a lighter note. What do you find most exciting about your job?
What I really love about my job is the constant evolution. I love that I'm not stuck doing the same thing forever. I mean, tomorrow, I could decide to ditch coding and switch to a whole new tech field and still be fine. That flexibility? It's like a breath of fresh air. Plus, the learning never stops, and that's a big deal for me. Back when I was younger, I was terrified of getting stuck in a routine job, doing the same thing day in and day out. That sounded like a nightmare. Even though some days I hit roadblocks that drive me crazy, the thrill of overcoming those challenges? It's addictive. Keeps me on my toes, and loving what I do.
---