NGNX is live on Obiex - Buying Crypto in Nigeria with Naira made easy
Deposit and Withdraw NGNX with Naira on Obiex
In most African countries, the drive for crypto adoption is inspired by currency devaluation and the need to send money across the world at a cheap cost. It's no wonder that despite the crypto ban in Nigeria, P2P trades account for the bulk of crypto trades carried out in the country.
Since the crypto ban placed by the central bank of Nigeria restricted banks and financial institutions from facilitating crypto transactions, individuals and businesses looked for several ways to easily transact fiat and crypto.
This has led to a rise in the number of P2P trading activities in Nigeria. According to data from Nairametrics, Bitcoin P2P trading has surged about 16% annually since the ban, amounting to trade volumes of over $400m in Paxful and LocalBitcoins only.
With the rise of P2P trading, there have been some uncertainties centered around liquidity, delayed deposits & withdrawals, lack of trusted merchants who implicate P2P users, and many more.
With Obiex, all the issues listed above are addressed directly with a special P2P model that employs the use of ONLY verified merchants and a token called NGNX which is pegged to the value of the Naira.
The use of only verified merchants means Obiex customers have nothing to worry about when trading P2P, and for every amount deposited or withdrawn, they can rest assured knowing that transactions will always be completed in little time.
Just like with the creation of Bitcoin and the blockchain by Satoshi Nakamoto, Obiex solves the problem of exclusivity created by centralized financial institutions.  
The Central bank of Nigeria under the leadership of Godwin Emiefele had announced months after the crypto ban to release a digital currency denominated in Naira called enaira. It was originally planned for October 1st, 2021 but was postponed to a later date of October 25, 2021. Users experienced bugs while trying to use the enaira wallet which led to it being taken down briefly on mobile app stores.
With NGNX, we want our customers to have easy access to cash through depositing, withdrawing, and swapping crypto.
NGNX will be pegged to the value of the Nigerian Naira in the crypto market. NGNX can be deposited by sending Naira to a verified merchant on Obiex, and withdrawn directly to your bank account.
Obiexers can now deposit and withdraw NGNX from and to their bank accounts respectively. You can also buy Bitcoin and USDT with NGNX on Obiex by swapping NGNX for the desired crypto.
How to use NGNX on Obiex
To use NGNX, you will be required to input your BVN to confirm your identity, after which you'll be able to deposit, withdraw and swap NGNX.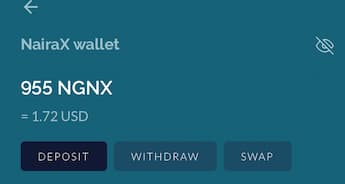 N.B Inputting your BVN doesn't permit Obiex to view your bank balances.
How to Deposit NGNX
Input the amount of Naira you wish to deposit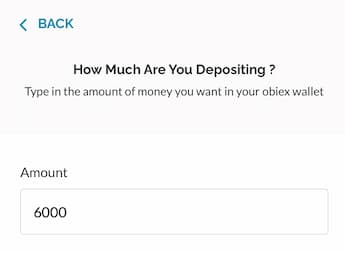 2. Pick one of our vetted merchants to make payment to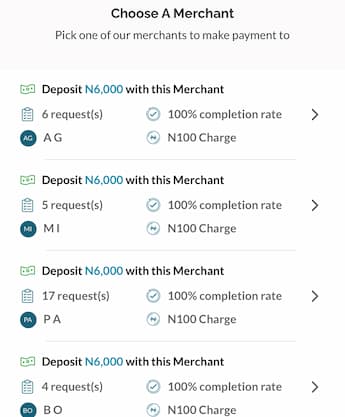 3. Make payment to the bank account of the provided merchant. N.B a charge of NGN 100 is required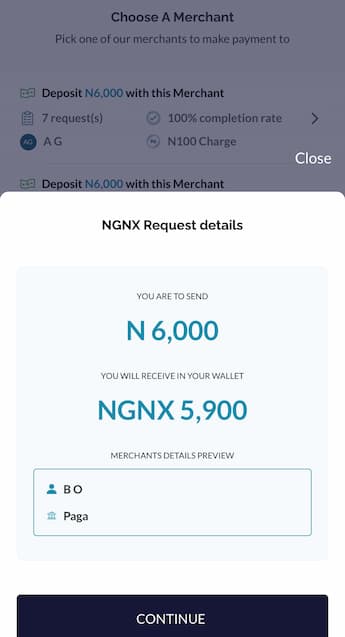 4. Confirm within the designated time that you have made the payment, and the Naira will appear on your NGNX wallet balance.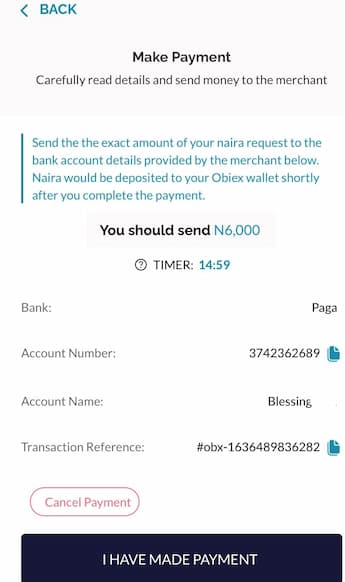 How to withdraw Naira to your bank account
Click on withdraw and input the Naira amount you wish to withdraw to your bank account.
Add a bank account you'll like to receive the money
Pick a vetted merchant to receive payment from. [N.B a charge of NGN 150 is required on every Naira withdrawal].
Enter your Obiex transactional pin and 2-factor authentication code.
Confirm payment once money has been received in your account.
It's worth noting that you're not restricted and can withdraw to any bank account within Nigeria, whether it's Zenith bank, GT Bank, First Bank, Access Bank, UBA, etc.
Swap NGNX for BTC and USDT
You can get BTC, WKD, USDC, BUSD, and USDT with NGNX by swapping from NGNX to any of these assets.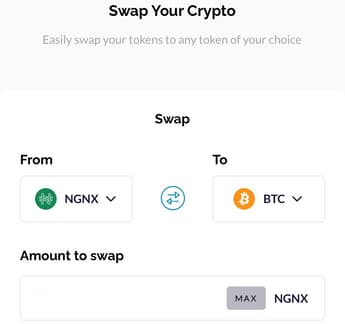 Contact support for any assistance you need in depositing, withdrawing, and swapping NGNX
You might enjoy reading this too.