Crypto Insights For September
Introduction:
First off, happy new month! Here at Obiex, it is our hope that this September is amazing for you. As an amazing month means sustained bull markets for the crypto assets we acquire, we have decided to share the investment choices we'll be making this month.
We have also taken the feedback onboard and added three exciting crypto assets to our platform, we hope you enjoy trading them.
Bitcoin (BTC)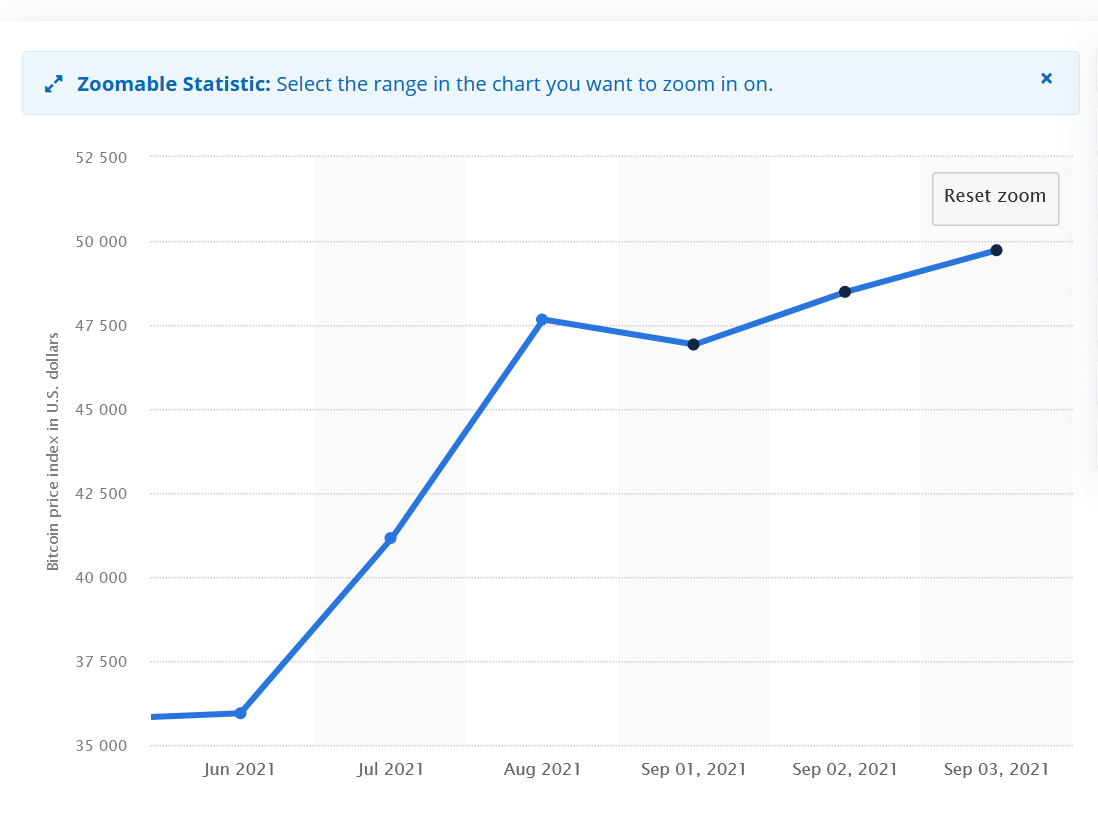 August was an especially turbulent month for Bitcoin with its price volatility estimated by Luno to be at 42.3%. However, it was also the month that the Number 1 crypto asset's revival reached its highest point, crossing the $50,000 mark on August 23.
This rise proved to be short-lived and the value dropped below $50,000 hours later but the price revival was enough to lend further legitimacy to the claims in some quarters that the value of Bitcoin would soon reach its old ATH of $63,ooo and keep climbing until it crosses the $100,000 mark.
August ended with Bitcoin valued at $48,000 but expectations are that; while the market will continue to, as usual, fluctuate, the overall value of Bitcoin will steadily rise.
In the past, the value of Bitcoin has dropped after news like China cracking down on Crypto went viral. In the same vein when Jack Dorsey announced on the 27th of August that Square would launch an open platform to build a decentralized Bitcoin exchange, the smart money immediately bought up as much $BTC as possible with the hope that it increases in value.
Our prediction: For September, we expect the recent favorable trend to continue and will continue buying up $BTC until, fingers crossed, the $100,000 threshold is reached 🤞🏿🤞🏿.
Ethereum (ETH)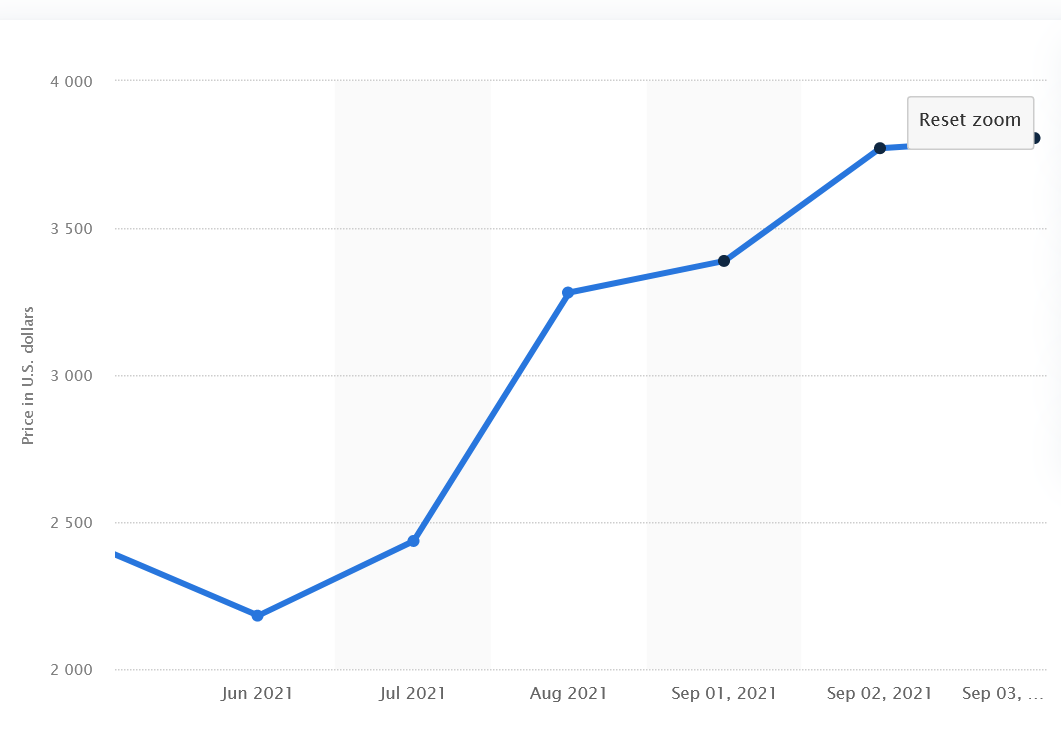 The second-biggest crypto asset is a favorite of many due to its versatility and the number of options it gives investors, compared to Bitcoin. While both assets are built on blockchain technology, Ethereum has an edge because its transfer rates are faster than Bitcoin's, it offers smart contracts while Bitcoin doesn't, and its blockchain technology is built to handle more transactions than Bitcoin's.
Coming into 2021, Ethereum co-founder Vitalik Buterin announced Ethereum 2.0; a new proof of stake protocol that would replace the current proof of work protocol by 2022.
Since then, several experts have opined that this change would improve the coin's security, scalability, sustainability and most crucially, its value.
So far, 2021 has been good to Ethereum as the value climbed from $1385 in January to 3232.73 by August 31. The value of Ether usually mirrors that of Bitcoin and in this case, experts have also predicted that Ethereum will end 2021 more strongly than Bitcoin.
Our prediction: Similarly to Bitcoin, buy up all the Ether you can. It's going to be a wild ride till the end of the year but we expect expert predictions to hold true.
Cardano (ADA)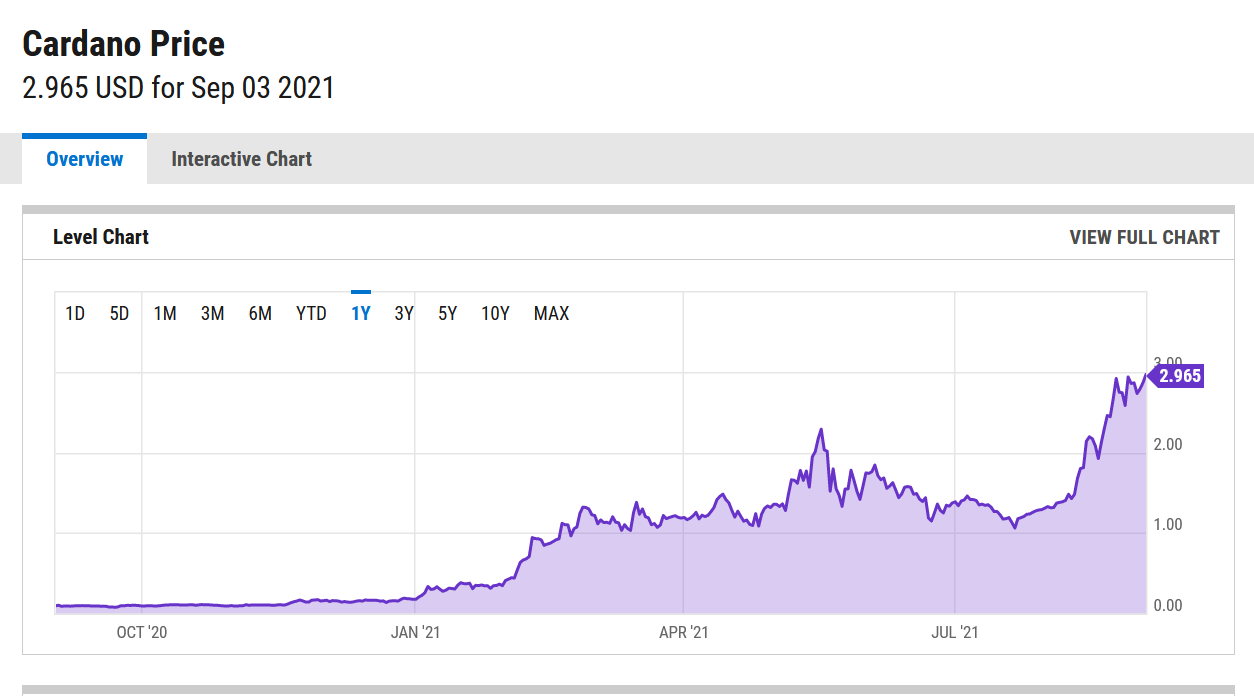 With a market cap of $90 billion, Cardano is now arguably the third-largest crypto asset after Bitcoin and Ethereum. A year ago, the value of Cardano was just $0.12 and after a May, 2021 crash with the rest of the market, its value right now is $2.98 on Obiex.
Due to the price progression, experts have predicted that ADA will rise to $3 by the end of 2021, making it an attractive option for short-term investors. A new Cardano smart contract update is also expected later this month which will add decentralized applications (dApps), smart contracts and decentralized finance (DeFi) functionality.
This update will allow Cardano to compete with other DeFi assets like Ethereum and Binance and add a new level of versatility to the crypto asset, boosting its value even further.
A week ago, Cardano launched in Japan in spite of stringent crypto regulations. This recent development adds to the positive news around the crypto asset and makes it clear that for the foreseeable future at least, Cardano's value will continue to wax strong.
Our prediction: Yesterday, ADA's value rose above $3, propelled by Cardano's smart contracts launch on Testnet. This development proved the traders who had been buying up ADA all year in anticipation for the main net launch on September 12 right and set the stage for expectations to be surpassed even further by the end of the year.
As we expect the value of ADA to rise even higher between now and September 12, this is one asset we're going to be investing in for the next week. To hedge your bets even further, you can decide to employ a day-trading strategy to obtain ADA.
Binance Coin (BNB)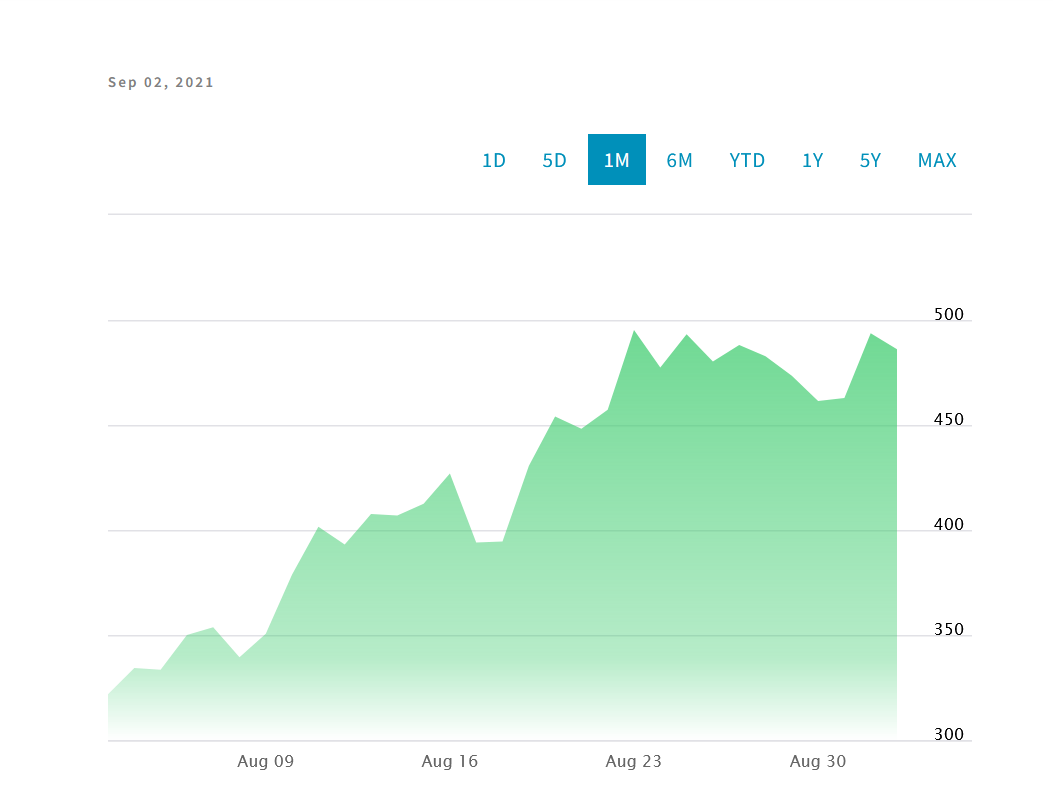 Initially a native of the Ethereum blockchain until Binance launched its blockchain in 2019, BNB is a favorite of many crypto investors for several reasons, chief of which is how the crypto asset has increased in value by 43,000 % in just over three years.
As the official crypto asset of the largest cryptocurrency exchange in the world; Binance, BNB users enjoy several perks, including discounts on all fees paid on the Binance exchange and collateral for loans on Binance as well as other crypto exchanges etc.
As mentioned here, BNB has been on a roll for a while, backed by the billions in daily transactions carried out on the Binance exchange. With experts predicting an extended bull run all throughout 2021 (accurate so far), optimism remains high that the value of BNB will continue to rise.
Our prediction: Despite being overtaken by Cardano as the third-largest crypto asset in August, BNB is still an investor's favorite because it's one of the most valuable assets out there. The value dropped slightly yesterday but this is still the right time to buy BNB stock.
Ripple XRP (XRP)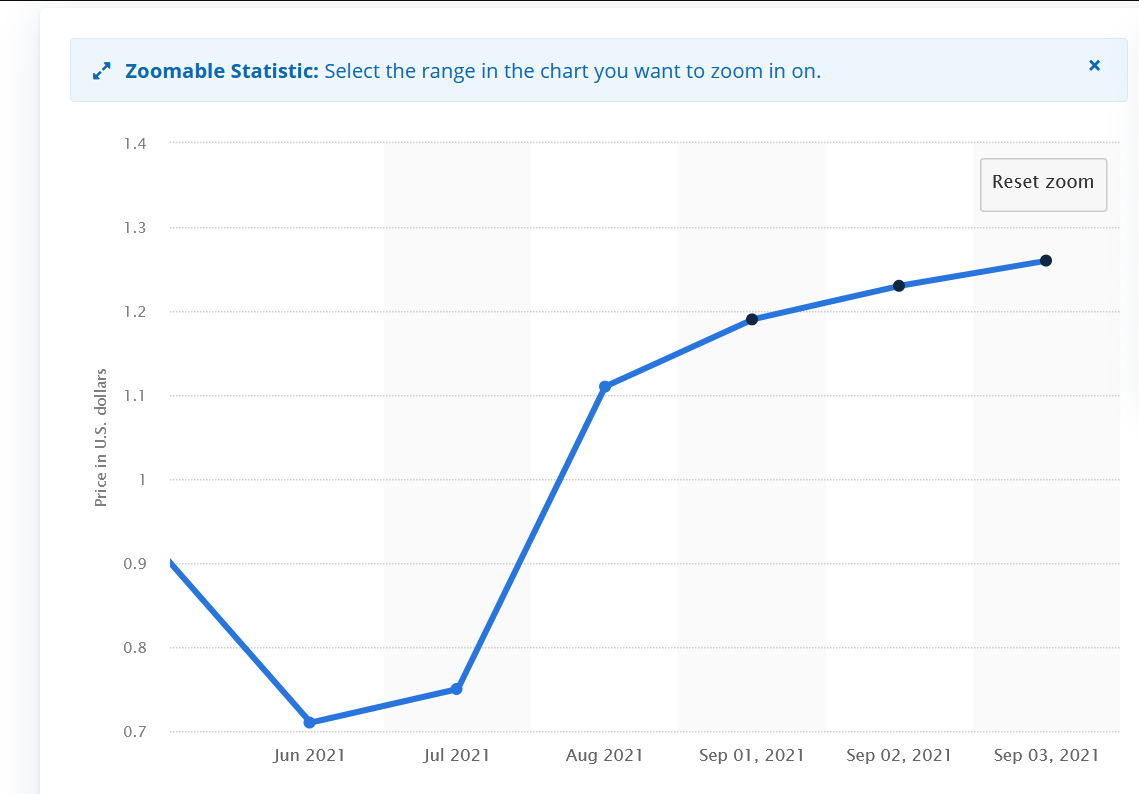 Despite Ripple Labs being embroiled in a legal controversy with the Securities and Exchange Commission (SEC) since 2020, the value of XRP has been steadily climbing since June. There was even cause for optimism as Judge Sarah Netburn ruled in Ripple's favor two days ago.
Today however, the Judge's ruling went in favor of the SEC as she ordered Ripple to hand over 1 million Slack messages to the Securities commission. As it is common knowledge that this case will have far-reaching consequences on crypto's future, this is a case that needs to be closely observed.
Our prediction: Earlier this year, XRP's value exceeded $1 for the first time in three years after a favorable early ruling in their case against the SEC. While the value has remained steady over the last couple of days, it's advisable to wait and see before committing a sizable investment to XRP.
A day trading strategy would be our preference here as we could take advantage of the current high value and still get out early if any more rulings go against Ripple labs and the value starts to drop.
Dogecoin (DOGE)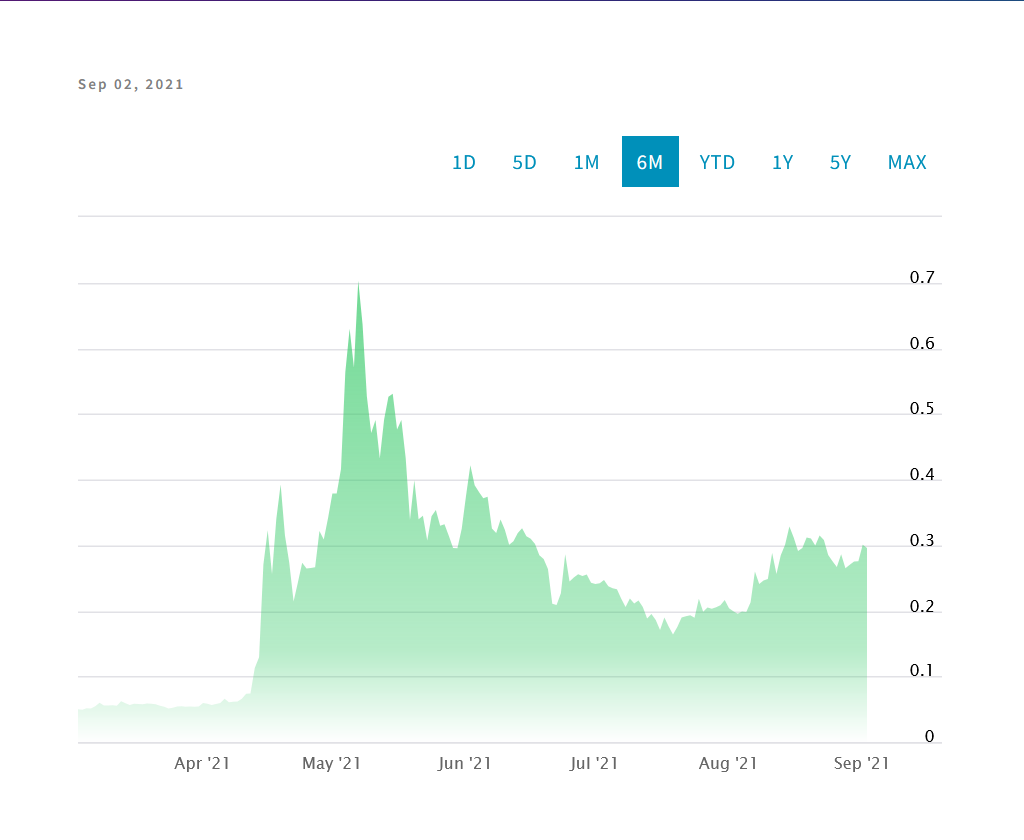 In an age where meme culture rules supreme, the rise of Dogecoin is actually logical. Created by two software engineers as a way to mock the wild cryptocurrency speculation in 2013, it somehow caught on among crypto investors and quickly gained many devotees, eventually reaching a market capitalization of $85 billion earlier this year.
While coins such as Bitcoin, Ether and BNB have now gained (grudging) acceptance from financial experts, crypto assets like Dogecoin are still viewed with suspicion with some financial analysts describing it as a "pump and dump investment". Its reputation has also not been helped by the fact that one of its creators has since renounced cryptocurrency completely.
Critics have also pointed out that even in a notoriously volatile market, Dogecoin is more volatile than most, with internet campaigns and tweets from Elon Musk credited for affecting its value in the past.
Our prediction: For all the criticism leveled its way, Dogecoin is now a legitimate crypto asset and with a market cap of $58.5 billion, it's the seventh-largest cryptocurrency in the world and is currently valued at $0.3 with us. Dogecoin has its flaws, but those same flaws can be turned to an advantage by employing one of several day trading strategies . Invest in this coin day-to-day but nothing long-term yet.
Solana (SOL)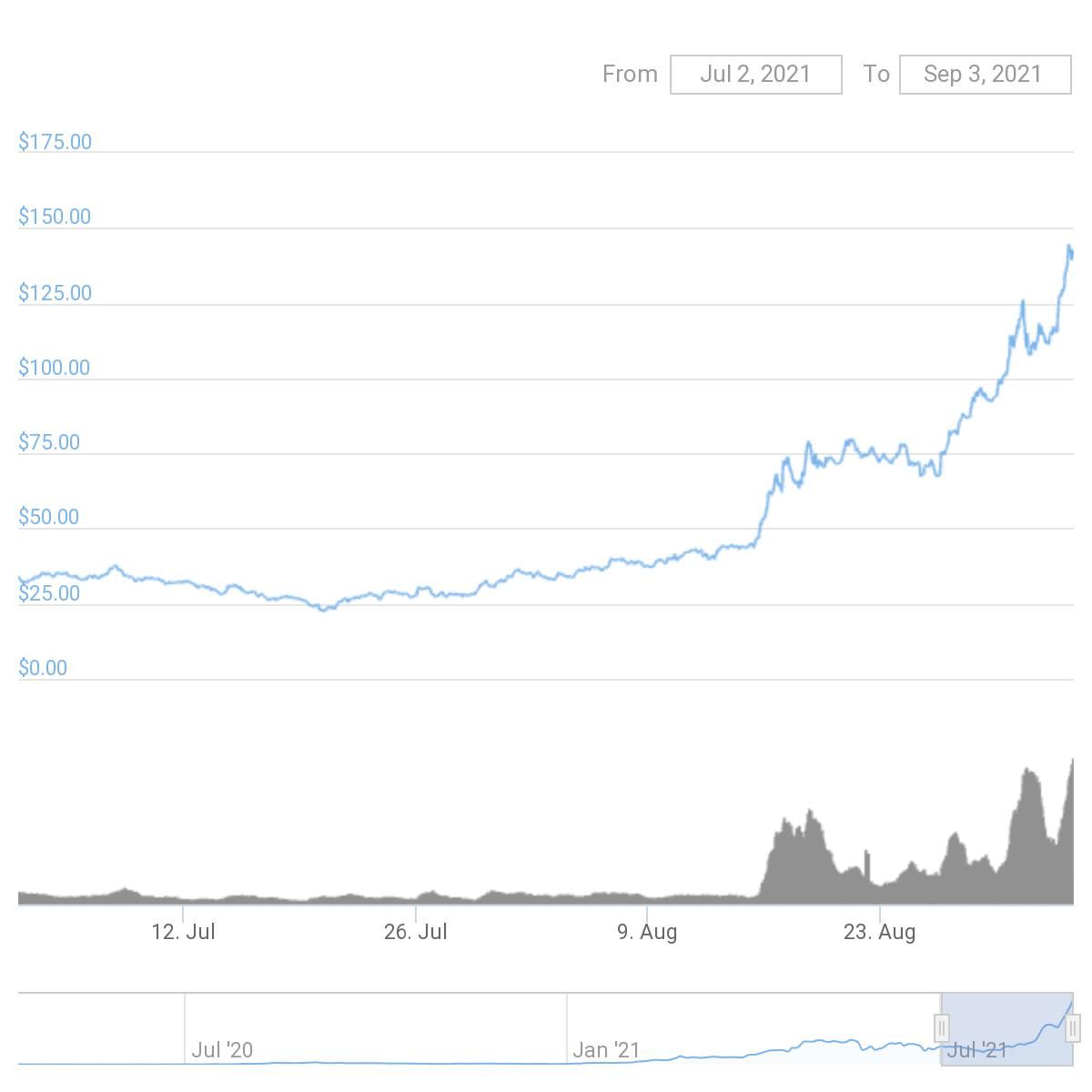 Rated as the best-performing August altcoin along with Ether, Solana embarked on a sustained bull run through August after July's lows, growing from $35 dollars at the beginning of July to an Obiex valuation of $140.89. A couple of reasons for Solana's success last month were the faster transaction speed and the sale of 10,000 NFTs, boosting the coin value by 20%
Our prediction: Invest sparingly in this coin. It might extend its bull run but it's just as likely that the value will start to drop. In that case, you can take advantage of the potential bear market that will open up by investing in Solana as soon as the value tanks and flip that into a profit  using a Dollar-Cost averaging strategy.
Polygon (MATIC)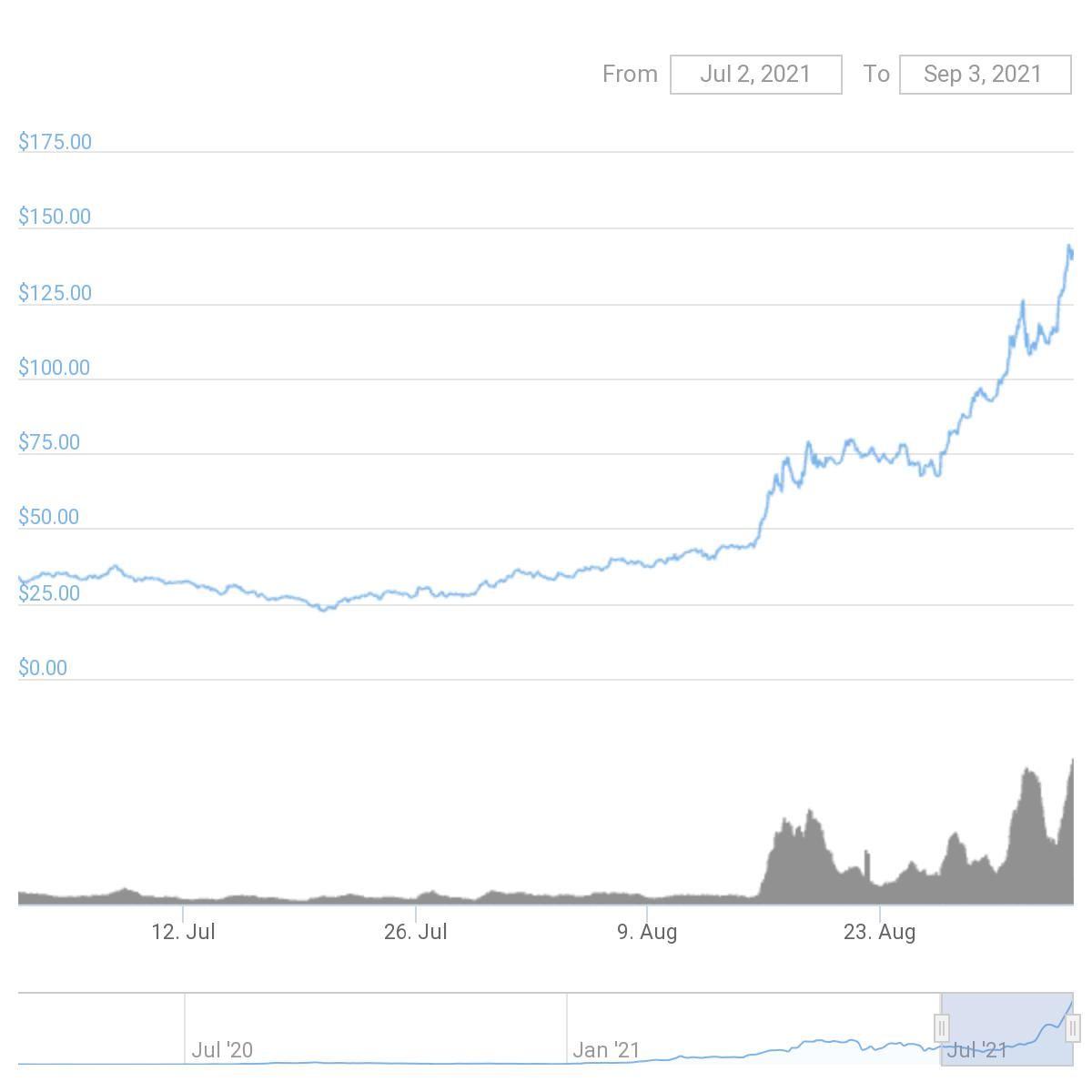 In July, Binance announced that it was integrating the Polygon Mainnet Token Wallet onto its platform. This move was arguably the best thing to happen to Polygon as it meant that Binance traders could trade MATIC with their Binance accounts.
By August, MATIC's Market cap/TVL Ratio stood at 0.9389, a sign that MATIC has a lot of growth ahead. However, the proposed Ethereum 2.0 will replace what Polygon does on the Ethereum network.
Currently available on Obiex at $1.47 today, MATIC is predicted to have a minimum/maximum value of $1.48/$1.59 by the end of the year.
Our prediction: Ethereum 2.0 is billed to be launched by 2022 and will likely cause a drop in value for MATIC. In the meantime, acquire some MATIC stock, they're currently going up now (up 9.27% on Obiex since yesterday)
Disclaimer: this article was written by the writer to provide guidance and understanding of cryptocurrency trading. It is not an exhaustive list and should not be taken as financial advice. Obiex Finance will not be held liable for your investment decisions.