bitcoin
4 Reasons for the Recent Crypto Market Dip: A Sit-down With Obiex's Head Of Growth.
The market in my opinion is over extended. When I say over extended I mean it's been going up for a while now. Dips should happen once in a while, but it didn't.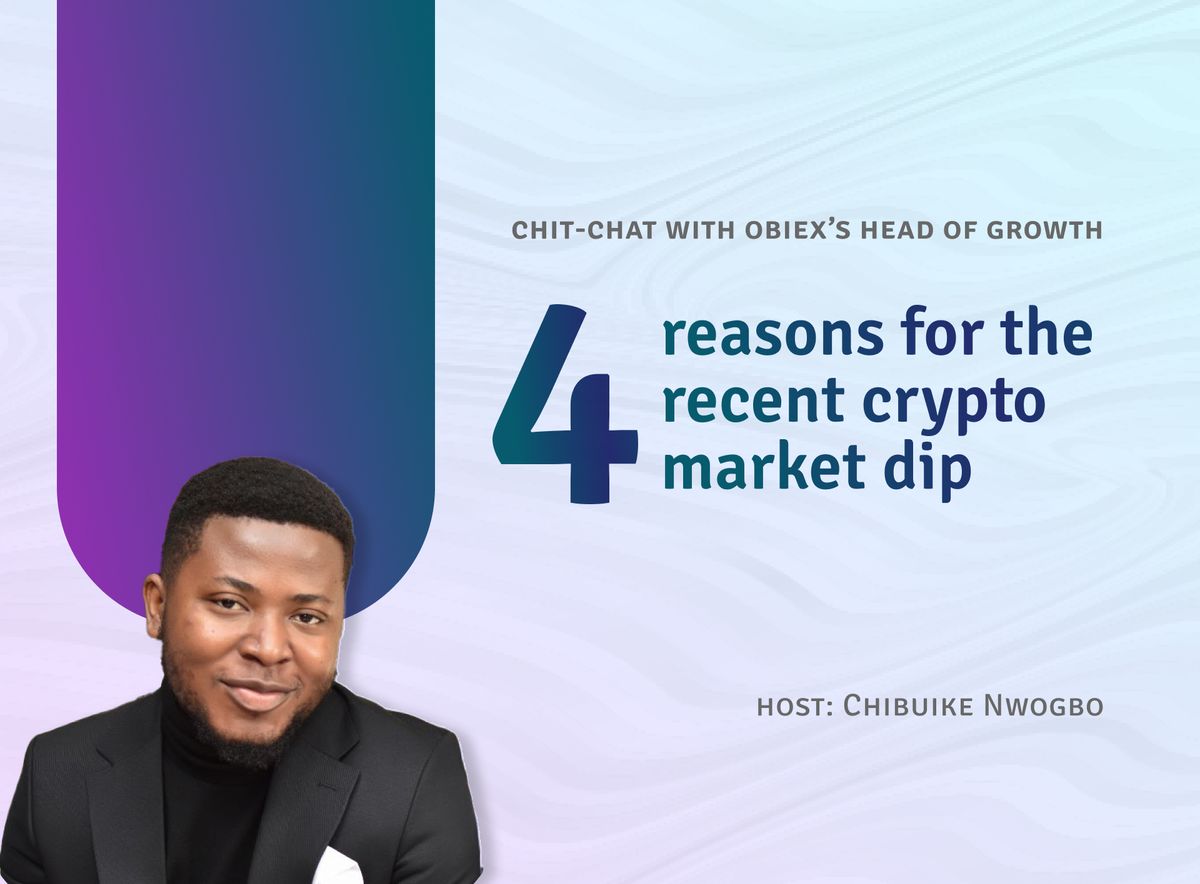 It's easy to guess what's on every trader's mind at the moment: the dip, and what caused the dip. Although some people are counting their losses or continue to count their losses (depending on your resolve to hold through the storm or not), others see an opportunity to stack up on bitcoin, the number one asset in the world for three years in a row.

Emmanuel Ititim, Head of Growth at Obiex, shares this viewpoint. We had the chance to sit down with Emmanuel last weekend to discuss what he felt were the major reasons for the recent crypto market dip.

Here is how the interview went;


What is your name and role at Obiex Finance?

My name is Emmanuel Ititim, I am the Head of Growth at Obiex.
When did you first start trading crypto?

I heard about and started having some interest in crypto early 2016. But I didn't buy my first coin until september of 2016, that was when I opened my first account with LocalBitcoins. Funny enough I started with 100 Naira. It worked and I was like okayy, this actually works. I went a bit further with 3000 Naira to make sure it was all real.
I wonder what those 100 Naira Investments would be worth now?

(Laughs) N6,100
What was the first coin you bought?

The first major bulk of bitcoin I bought was around 2017. Dash was having a crazy bull-run and I got excited and started buying hundreds of thousands worth of Bitcoin. That was when I really hit it big.
How big did you hit in 2017?

I made over 5,000%, can't say exact figures.
What is Dash?

Well Darkcoin rebranded as Dash which is a flop of Dogecoin. Dash is a fork of Dogecoin code, they replicated Dogecoin source code and made some changes. Dash was formerly called Darkcoin.
Looks like you have been in the Industry for a while now?

(Laughs). Well I am not part of the 'Shiba crew', so I guess you can say that.
When last did you witness a dip like this?

March 2020. Oldies know the market will always bounce back. Only newbies will be panicking at this point. For 10 years crypto has been a lifeline. It is still the future of finance. It is still revolutionary.
I have to ask, did you see the dip coming?

(Laughs) I did, but didn't expect $40k support to break.
What do you think are the major reasons for the recent crypto market dip?

The market in my opinion is over extended. When I say over extended I mean it's been going up for a while now. Dips should happen once in a while, but it didn't. It's all about balance. People will sell to make a profit. We might just be seeing the result of accumulated dips that should have happened intermittently.

Both the crypto and stock market walk hand in hand sometimes, and recently we have seen a dip in tech stocks. Netflix stock dove 22% in a day. If people sell stocks, they will usually sell crypto assets too. Many other tech companies took major hits in the stock market and I think it is one of the reasons for the crypto market dip.

Crypto is cutting edge technology. What happens there (stocks) happens here three times. People tend to see cryptocurrency as an extended version of these tech stocks.
Do you think the crypto market will dip any further?

Worst case scenario is 30k. That is "Worse case scenario". It is a buying opportunity though. I am prepared for it. I see Bitcoin doing a lot better this year. I see a 100% comeback.
Do you think the dip will last the whole Q1

The Chinese new year is coming up February 2nd. Market can consolidate. We may not necessarily see any upward trajectory till the end of February. I am calling a "flat" market for the remainder of Q1.


What is the best thing to do in a bear market as crypto dips?

The best thing to do in a bear market is to buy dips especially in extreme cases and apply oneself to learning & adopting every new application that is built in the crypto space, this will give you a head-start when the bull market returns especially with regards to airdrops.





Thank you for your time, Emmanuel Ititim

My pleasure.


*******

Whatever the true reasons for the dip are, everyone surely cannot wait for the market to recover. Some say buy the dip now and others say wait for it to go lower. Emmanuel Ititim expects Bitcoin to go as low as 30k first before any bull run, what do you think?